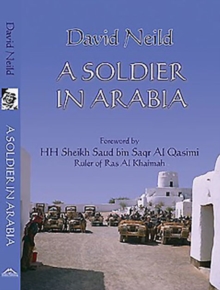 A Soldier in Arabia
Hardback
Description
A Soldier in Arabia reveals the behind-the-scenes story of the events which lead up to and followed the creation of the present day United Arab Emirates in December 1971, followed, a few months later, with Ras Al Khaimah joining the Federation.
Soldier and adventurer David Neild was the youngest officer to serve in the legendary Trucial Oman Scouts when he joined them at the age of only 20 in 1959.
In 1968 Sheikh Saqr bin Mohammed Al Qasimi, the Ruler of Ras Al Khaimah, with whom Neild had formed a good working relationship, called on Neild - now a Lt Colonel - to set up and command a national defence force for the Sheikhdom, with the rank of Lt Colonel.
Then, in 1972 after the Ruler of Sharjah was assassinated, Neild was asked to establish and command the Sharjah National Guard.The account of Neild's career in Arabia is set against the backdrop of unrest and uncertainty and the emerging national politics of the day.It is both a valuable historic record as well as an entertaining and honest account told with empathy, and in the lean, objective style of a military man who, on a daily basis, had to balance the need for rapid political, strategic and tactical decisions with respect for the traditional ways of a complex tribal Arab culture. The evidence of his success is revealed through the enduring relationship that has been forged with HH Sheikh Saud bin Saqr Al Qasimi, son of the founding Ruler and his former employer, as well as the continuing presence and strength of both the Ras Al Khaimah and Sharjah Defence Forces.A Soldier in Arabia is a unique first-hand account of a life lived to the full during a significant period of history on the Arabian Peninsula.
The author writes with understanding and insight of the sheikhs and soldiers, statesmen and scoundrels encountered along the way.Part memoir, part history, but always full of adventure, this compelling account will provide the reader with a better understanding of a part of the world frequently misunderstood by outsiders and an appreciation of the remarkable man who earned the lasting respect of both the leaders he served and the soldiers he led.
Information
Format:

Hardback

Pages:

196 pages, 16 Colour plates

Publisher:

Medina Publishing Ltd

Publication Date:

22/03/2016

Category: Memoirs
ISBN:

9781909339637