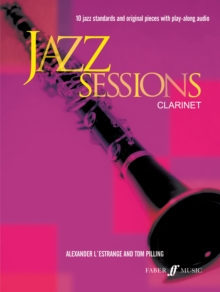 Jazz Sessions : (Clarinet)
Mixed media product
Description
"Jazz Sessions" is an exciting new collaboration between Alexander L'Estrange, composer, arranger, jazz double bass player, jazz examiner for the ABRSM and Tom Pilling, composer, jazz pianist and teacher.
This book/CD spans a host of jazz idioms including blues, swing, Latin and gospel with 10 carefully composed or arranged jazz standards.
This contemporary mix includes "Fly me to the moon", "Stompin' at the Savoy" and "C Jam Blues" and the professional, acoustic backing tracks help create a truly atmospheric performance.
The book includes a second, extended version of each piece for improvisation giving ideal preparation for ABRSM jazz exams, or simply for fun!
The book is carefully tailored for players of intermediate level (grades 4-5) and is also available for piano, violin, flute, alto saxophone or trumpet.