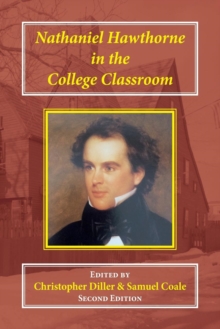 Nathaniel Hawthorne in the College Classroom : Contexts, Materials, and Approaches
Paperback / softback
Description
This new work is currently the only book devoted to the teaching of one of the most canonical and frequently taught American authors. In addition to a Preface by the noted Hawthorne scholar Larry J.
Reynolds [University Distinguished Professor and Thomas Franklin Mayo Professor of Liberal Arts Department of English Texas A&M University] the contributors include well-known and rising teacher-scholars who offer theoretical and pedagogical approaches to Hawthorne's four published novels and a wide range of his short stories. The specially commissioned essays are designed to help teachers meet students at points of genuine interest and need.
They incorporate biographical, literary, historical, and multidisciplinary scholarship.
The studies are further grounded in specific contexts such as literature surveys, interdisciplinary humanities courses, upper division literature seminars, and study abroad courses. Special emphasis is given to the issues of gender, science, and visual culture (including film adaptations).
Offering both theoretical and practical classroom resources, this anthology confirms the continued vitality of Hawthorne's work - his critiques of religious and moral authority are more relevant than ever in today's global political environment - even as it showcases how today's "Hawthorne" is more of a diverse amalgam of texts and perspectives than ever before.
Given its diversity of approaches and authors (including essayists from Germany, Israel, and Sweden), Nathaniel Hawthorne in the College Classroom charts new paths for reading and teaching Hawthorne in the 21st century.
Information
Format:

Paperback / softback

Pages:

332 pages

Publisher:

Edward Everett Root

Publication Date:

31/01/2018

ISBN:

9781912224197