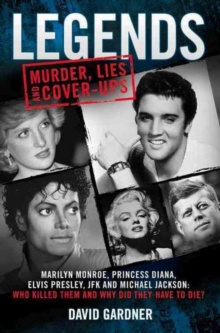 Legends: Murder, Lies and Cover-Ups : Marilyn Monroe, Princess Diana, Elvis Presley, JFK and Michael Jackson: Who Killed Them and Why Did They Have to Die?
Paperback / softback
Description
These five deaths stopped the whole world in its tracks, and continue to fascinate and intrigue to this day.
If people famously remember where they were when JFK was assassinated, many also recall where they were and what they were doing when Elvis, Princess Diana and Michael Jackson died.
As for Marilyn Monroe, the candle flickered out long ago, but only now can the truth be told about how - and why - she died. After combing through thousands of recently declassified FBI files, interviewing key witnesses, crime analysts and forensic experts during years of research, investigative writer David Gardner has unearthed new information that will transform the way we look at these iconic tragedies.
His book reveals that Elvis Presley died not as a self-obsessed caricature but as a genuine hero who may have signed his death warrant going undercover for the FBI; how Marilyn Monroe's secret affairs with JFK and his brother, Robert, left her in the crosshairs of a lethal conspiracy; why Princess Diana's death was no accident; who ordered President John F.
Kennedy's assassination; and how on three occasions Michael Jackson 'died' of painkiller drug overdoses in the months before his death.For the first time, Legends provides many of the answers that have been so elusive for so long, while explaining what it was about these enduring legends that made them so memorable.
Information
Format:

Paperback / softback

Pages:

288 pages

Publisher:

John Blake Publishing Ltd

Publication Date:

06/10/2016

Category:
ISBN:

9781786060051