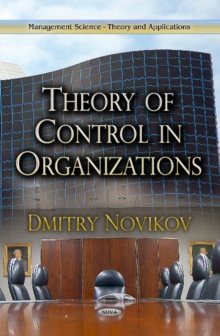 Theory of Control in Organizations
Hardback
Description
The theory presented in the book deals with methodological and mathematical foundations of control in organisations.
It extends the traditional approach of management science by introducing the optimisation and game-theoretical tools for systematic accounting of the special nature of human beings as a control object (e.g. opportunism, selfish behaviour, information manipulation).
Formal methods are used to construct robust and efficient decision-making procedures (the, so called, mechanisms), to support all aspects and stages of management activity (planning, organisation, motivation, and monitoring), over all decision horizons, from operational to strategic management.
This book reflects modern state of the art theory of control in organisations and is intended for advanced graduate students specialising in management sciences and in applications of control theory and operations research in business administration.