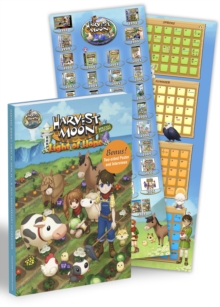 Harvest Moon: Light of Hope-A 20th Anniversary Celebration
Hardback
Description
A Retrospective for Harvest Moon Fans: 20 years of Harvest Moon detailed in art and descriptions illustrating the history and innovations of this groundbreaking video game series. Harvest Moon Personalities Past and Present: Special interviews discussing the legacy of Harvest Moon with "Harvest Moon: Light of Hope" Producer of Taka Maekawa and others involved with the series. Exclusive Two-sided poster: A spectacular reference that displays the full timeline for every Harvest Moon game and also catalogues all of the important calendar dates in Harvest Moon: Light of Hope.
Don't miss a single important event or birthday!Deluxe Hardcover Book: Printed on premium paper with special cover treatments. Harvest Moon: Light of Hope Strategy Guide Contents:Restore the Lighthouse: Find the Stone Tablets and summon the Harvest Goddess!Be the Most Popular Farmer: A detailed gift giving guide to help you make friends fast!Farming, Mining, and Fishing: Maximize your profits and live off the land!Digital Bonus: Unlock your digital version of the Harvest Moon guide with the free code card included inside.
Easily custom-sort crop tables, mining tables, and more using your digital guide. Game Description:The newest installment to the Harvest Moon series, Harvest Moon: Light of Hope expands upon the farming simulation gameplay that has been the series hallmark for 20 years.
In this game, you grow plants, raise livestock, and make friends in your community to complete challenges and become a successful farmer.
Prima Games' Harvest Moon: Light of Hope A 20th Anniversary Celebration Collector's Edition guide also features a 20 year retrospective.