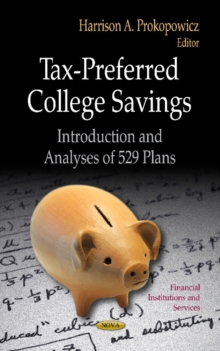 Tax-Preferred College Savings : Introduction & Analyses of 529 Plans
Hardback
Description
In the face of the rising cost of higher education, families may consider a variety of ways to finance their children's college expenses.
In order to make higher education more affordable, Congress enacted legislation that provides favourable tax treatment for college savings.
Among the options families may choose to save for college, they may consider using tax-advantaged qualified tuition programs (QTPs), also known as 529 plans.
This book provides an overview of the mechanics of 529 plans and examines the specific tax advantages that these plans offer.