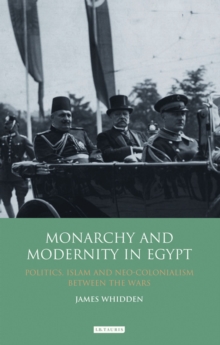 Monarchy and Modernity in Egypt : Politics, Islam and Neo-Colonialism Between the Wars
Hardback
Description
The creation of the Egyptian monarchy in 1922, under King Fuad II, opened contests and debates over fundamental cultural questions, particularly definitions of Egyptian modernity, rule and identity.
Here, James Whidden looks at the political, cultural and intellectual landscapes of Egypt between the wars, from the nationalist agitations for independence in 1919, the rise of the Wafd - first under Saad Zaghul and then Mustafa El-Nahas Pasha - and the rise and fall of different political and power brokers in the period such as Abd al-Latif al-Makkabati or Abd al-Khaliq Tharwa.
Whidden therefore focuses on the different interpretations of the nature of Egyptian politics, highlighting the ways in which patriotism and elitism, Islam and tradition, colonial manipulations, and ideological politics combine.
In particular, he examines how monarchists, like Zaki Fahmi and Diaeddine Saleh, attempted to neutralise opponents through cultural works, patronage and political party contests.
The period under examination was to a large extent defined by the 'revolution' of 1919 and the constitutional and electoral processes that followed. The sectors of society involved in this were the effendiyya and the notables - such as Zaghul.
But these were soon dominated by the monarch, as the Wafd party allied with the king.
Bearing this in mind, Whidden examines how these notables attempts to mobilise the people in revolutionary activity, electoral contest and the formation of political party organization in this period. Although a 'liberal constitution' was written by an appointed constitutional commission in 1923, Whidden argues that the disagreements it occasioned suggest that politics in the interwar period was very much an attempt to redefine or rewrite that constitution to the differing assumptions of liberal, nationalists and monarchists. Monarchy and Modernity in Egypt is thus a vital resource for those interested in Middle East history, as well as intellectual developments within the region.
Information
Format:

Hardback

Pages:

248 pages, 2 maps, 10 bw integrated illustrations

Publisher:

I.B. Tauris & Co. Ltd.

Publication Date:

27/09/2013

Category: Middle Eastern history
ISBN:

9781848857063