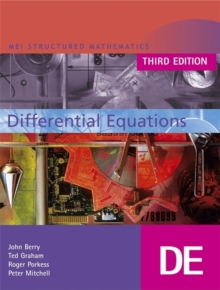 MEI Differential Equations Third Edition
Paperback
Description
This series, well-known for accessibilbiy and for a student-friendly approach, has a wealth of features: Worked Examples, Activities, Investigations, Graded Exercises, Key Points summaries and Discussion Points.
To ensure exam success there are plenty of up-to-date exam questions, plus warning signs to indicate common pitfalls.
MEI offer full support to schools through their network with newsletters, training days and an annual conference.
Differential Equations begins with a chapter on modelling and how you can use differential equations to describe real-life situations.
It then goes on to consider solving a variety of types of differential equation, including second order linear and simultaneous equations.
The book covers a variety of techiniques: analytical, numerical and graphical.
Real contexts, for example oscillating systems, are used throughout.
This book provides a clear introduction to differential equations and is suitable for any serious introductory course on the subject.