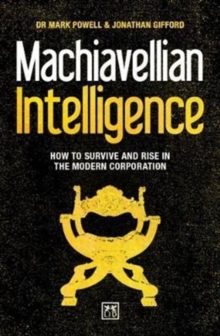 Machiavellian Intelligence : How to Survive and Rise in the Modern Corporation
Paperback / softback
Description
The best way to secure yourself against being 'let go' in the modern economy is to rise to a level within the corporation where you are making the strategic decisions, not bearing the brunt of their consequences.
It may be tough at the top, but it's dangerous in the middle -- and the rewards at the top are far greater.
Machiavellian Intelligence argues that many intelligent and hard-working professionals with good leadership skills fail to maximize their career potential because of a number of instinctive 'good' habits - things that make them highly effective executives, well-liked and respected by their colleagues, but which are not best designed to take them to the very top of their chosen career.