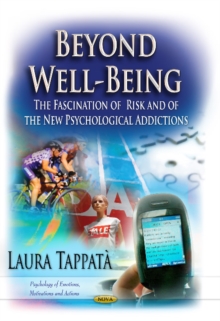 Beyond Well-Being : The Fascination of Risk & of the New Psychological Addictions
Hardback
Description
In this thought-provoking book, Laura Tappata brilliantly guides the reader from a description of the existential problem of psychological addictions to a possible solution leading to a potentially positive outcome for the individual.
The central theme of the book is anchored in the dismal nature of "post-modern identity" with a focus on searching for meaning in what we are and who we are.
This identity is characterised as being narcissistic and fragile, suggesting from the outset that we need to somehow strive for a stronger and more well-defined self in order to, first, survive and, then, possibly thrive emotionally.
Living in this post-modern world naturally leads to a superficial existence and the seemingly blind quest of acquiring non-essential and meaningless things designed to bolster our ill-defined, weak and vulnerable self.
Although this leads to a false sense of happiness, it does not generate true contentment let alone a sense of well-being.
As such, many of us are left to drift with few essential values, certainties and stable points of reference.
This book attempts to lead the reader on the path from "the post-modern dependence on psychological addictions" to freedom, the expression of one's identity and a true sense of well-being.