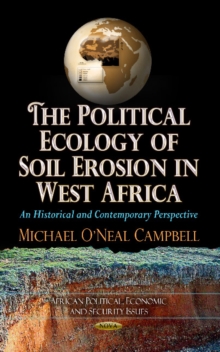 Political Ecology of Soil Erosion in West Africa : An Historical & Contemporary Perspective
Hardback
Description
This book looks at theories of nature-society relations and development, applied to soil erosion and environmental change in West Africa, and Ghana.
Acknowledging the importance of power relations for environmental management, the book begins with an examination of the field of political ecology, alternately the "political economy of the environment." It assesses the role of this sub-discipline within geography and anthropology, and its role in practical conservation planning and the management of soil erosion.
Political ecology tilts towards a structuralist approach, hence social theories (actor oriented studies and structuration theory) sensitive to actor analysis are examined as complementary frameworks.
Structuration theory is discussed as attempting to tie the concepts of structure and actor together and provide a basis for the study of political, economic, socio-cultural and environmental contexts.
These theories connect to the issues of livelihood and household analysis, gender relations and the economic, ecological and Green political variants of the paradigm of sustainable development.