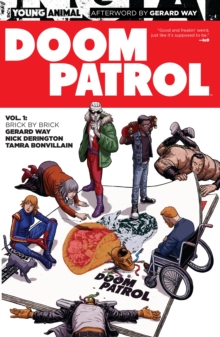 Doom Patrol Vol. 1 Brick By Brick
Paperback
Description
The spirit of Grant Morrison's groundbreaking DOOM PATROL is captured inthis debut series starring the cult-favorite misfits as a part of Gerard Way'snew Young Animal imprint. Flex Mentallo, Robotman, Rebis, Crazy Jane, and moreare back to twist minds and take control.
This new take on a classic embracesand reimagines the Morrison run's signature surrealism and irreverence. Incorporating bold, experimental art and a brash tone to match a new generationof readers, Gerard Way's DOOM PATROL establishes radical new beginnings, breaksnew ground, and honors the warped team dynamic of the world's strangest heroes.
This abstract and unexpected ensemble series nods at the Doom Patrol's roots bycontinuing to break the barriers of the traditional superhero genre.
Collectsissues #1-6. DOOM PATROL is the flagship title of Young Animal--a four-bookgrassroots mature reader imprint, creatively spearheaded by Gerard Way, bridgingthe gap between the DCU and Vertigo, and focusing on the juxtaposition betweenvisual and thematic storytelling.
Information
Format:

Paperback

Pages:

0 pages

Publisher:

DC Comics

Publication Date:

06/06/2017

Category: Superheroes
ISBN:

9781401269791