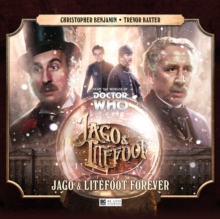 Jago & Litefoot Forever
CD-Audio
Description
Henry Gordon Jago finds himself celebrating New Years' Eve without his best friend.
Where has Litefoot gone? Together with his friends Ellie, Quick, and Dr Betterman, Jago is on the trail of the missing professor and dear friend - and it will lead to one of the strangest cases in their infernal investigations. (Also contains both parts of Doctor Who - Short Trips: The Jago & Litefoot Revival, and a disc of interviews).
The final story in Big Finish's Doctor Who spin-off range which followed on from fan favourite story The Talons of Weng-Chiang, across 13 series of audio adventures set in a Victorian era beset by fiends and monsters!
The second disc contains both parts of Doctor Who - The Jago & Litefoot Revival, a thrilling reading from stars Christopher Benjamin and Trevor Baxter which tells of Jago & Litefoot meeting the Tenth and Eleventh Doctors.
The third disc documentary pays tribute to actor Trevor Baxter - George Litefoot - who died in 2017 and is much missed by the Big Finish family.
CAST: Christopher Benjamin (Henry Gordon Jago), Trevor Baxter (Professor George Litefoot), LisaBowerman (Ellie Higson), Conrad Asquith (Inspector Quick), Louise Jameson (Leela), Colin Baker (The Doctor), Rowena Cooper (Queen Victoria), David Warner (Dr Luke Betterman), Jamie Newall (Aubrey), Stephen Critchlow (Sir Humphrey Eagleton / Charlie Lucas).
Information
Format:

CD-Audio

Publisher:

Big Finish Productions Ltd

Publication Date:

30/06/2018

Category: Space opera
ISBN:

9781787035478